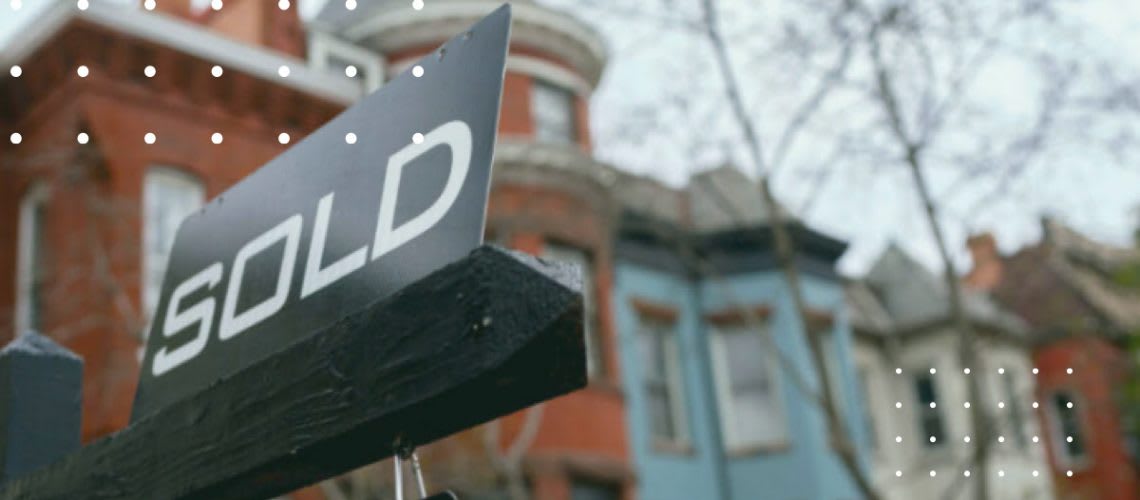 Mortgage rates jumped dramatically higher last week, hitting 4.4% as inflation continues to push rates further from their recent historic lows.
The average 30-year fixed mortgage rate was up more than a quarter-point from last week and has now risen more than one percentage point since the start of the year, riding a wave of economic news led by persistently high inflation. Russia's war in Ukraine has made markets more volatile, which we saw influence the mortgage rate market when rates dropped below 4% two weeks ago.
These figures preceded the news that the Federal Reserve would increase its benchmark short-term interest rate by a quarter of a percentage point. Experts say the anticipation of the start of that process has contributed to the rise in rates this year.
If you're shopping for a mortgage, be sure to get quotes from different lenders to make sure you're getting the best deal, experts say.
What's Behind Changes In Mortgage Rates?
Rates are up about a full percentage point from the start of the year, and it's because of a lot of coinciding economic factors. Inflation is a big one. It topped 7.9% year-over-year in February, the highest level in 40 years. The inflation rate has been around a 40-year high for the past few months, driven largely by increasing prices for energy and food. The recent rise in gas prices, spurred by Russia's invasion of Ukraine, likely won't help.
Mortgage rates have also gone up as lenders factored in expectations over the past few months that the Federal Reserve would start raising its benchmark short-term interest rate in a bid to slow inflation. The Fed moved to start raising that rate by a quarter of a percentage point, with further increases expected throughout the year.
The economy's recovery from the pandemic has also nudged rates up. Job gains have been strong the past few months, with the unemployment rate dropping to 3.8% in February.
Historical Mortgage Rates: Today's Rates Are Still Favorable
Here's a visual look at how current mortgage rates compare to the last 22 years.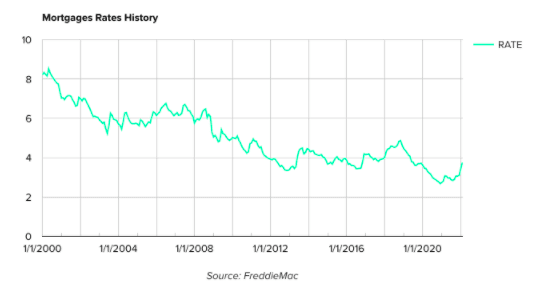 Rates have risen sharply this year but they still are favorable when compared to levels seen in the fairly recent past. Before the 2008 crash, "good" rates were still above 5%, and rates were well above 4% as recently as 2018 and 2019.
What Can Homebuyers Do About Rising Mortgage Rates?
Rates are moving, and they're moving quickly. Don't let that discourage you from buying a house if you want to make that choice, but keep it in mind as you're going through the process. Remember above all that you aren't buying a mortgage, you're buying a home, and even if rates are above 4%, it's still much more favorable debt than a credit card, and the equity you build from renting is zero.
Shop around at different lenders. Research from the Consumer Financial Protection Bureau (CFPB) determined that rates from different lenders can vary by as much as half of a percentage point for similarly qualified borrowers. Just getting a few quotes can save you hundreds or thousands of dollars in interest over 30 years.
Don't try to time the market in the hopes that rates will drop. Rates are moving quickly these days, and waiting too long to lock in a good because you're waiting for a great one might leave you with only less favorable rates to choose from. You can read more
here
.
Our team works with the best mortgage professionals in the business. We will continue to keep you updated on market volatility. We are here to answer your questions about all things real estate.
Warm regards,
Stacey Froelich