MYSTERIOUS WINDOWLESS BUILDINGS IN NYC
Walking the streets of New York City, passersby might notice that most of the buildings they pass are meant to be inviting: storefronts draw customers in, brownstone stoops welcome neighbors inside, and office building windows allow onlookers to observe thousands hard at work. But mixed into the densely built ecosystem of New York City are buildings that seem out of place. These "monoliths," with towering concrete and stone walls that have few or no windows are uninviting and almost standoffish. The blank walls of these windowless buildings, though, hide incredible secrets as the diverse and sometimes surprising functions of these buildings often motivate their impenetrable appearance. Uncover the secrets that hide within these mysterious and monolithic windowless buildings in New York City.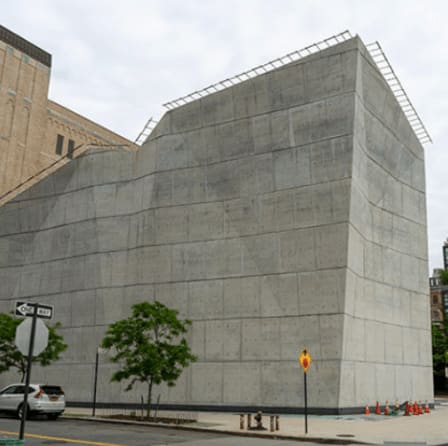 Spring Street Salt Shed
The Spring Sheet Salt Shed resembles a massive iceberg. The windowless building, completed in 2015, stores massive mounds of road salt totaling 5,000 tons for the city's sanitation department. In the days before an impending snow storm, a massive garage door at the back of the building opens to reveal the vault where snowplows and trucks source their salt. Its placement is part of an effort by the city to create equity in terms of which neighborhoods are forced to house services that the whole city needs.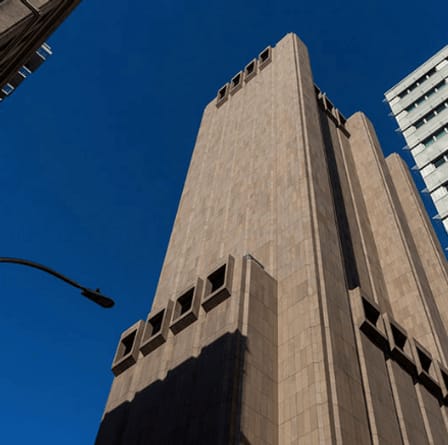 33 Thomas Street
The 550-foot windowless skyscraper standing among the other towers in Tribeca is a telephone exchange building, or wire center, operated by AT&T. Much of New York City phone communications are run through this building, so it is built to withstand nuclear fallout and could stay operational for two weeks after the disaster. One of the city's most striking brutalist pieces of architecture, the building splits public opinion. Another windowless AT&T telephone exchange building is located at 811 10th Avenue between 53rd and 54th streets.
Asphalt Green
Sitting next to FDR Drive between 90th and 91st street on the Upper East Side is a hulking, arched concrete building. Called Asphalt Green, the striking building is actually an athletic facility with basketball courts and a gym, among other amenities. The recreation center's name is indicative of what it used to be: an asphalt mixing plant.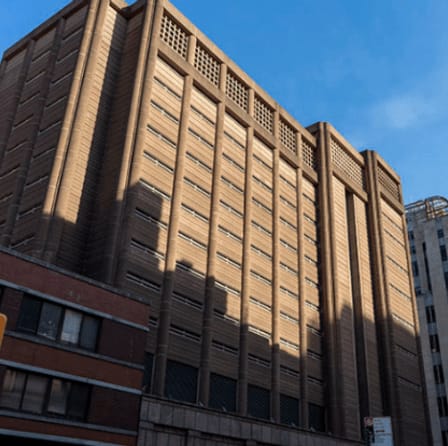 Manhattan Detention Complex or "The Tombs"
Some windowless buildings are not intentionally designed to be scary and imposing, but the ominousness of the Manhattan Detention Complex is intentional. Many New Yorkers know this building as "The Tombs," The building is the fourth and most recent iteration of Manhattan's "House of Detention," a phrase commonly associated with detention centers in the city. In 2020, the facility announced it would close as part of a larger push to move the city's prison population into safer and more modern facilities.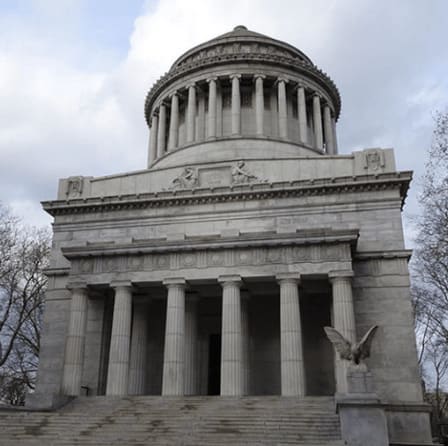 Grant's Tomb
The massive marble-columned structure in Riverside Park is different than every building on this list: it is a tomb. Ulysses S. Grant, former President and General of the Union Army, is honored in this massive columned edifice. The mausoleum's design is inspired by the ancient Greek Mausoleum of Halicarnassus and Napoleon's tomb at Les Invalides in Paris. Though the famous riddle goes "Who is buried in Grant's Tomb?" it a trick question. Grant's sarcophagus sits above ground within the tomb, so he is not buried. The tomb, which is the largest mausoleum in the United States, is open to the public and offers free admission.
When we came across this article, we simply had to share! We love NYC for so many reasons, and originality is high on the list. We hope you are having a fantastic summer. Reach out anytime to connect!