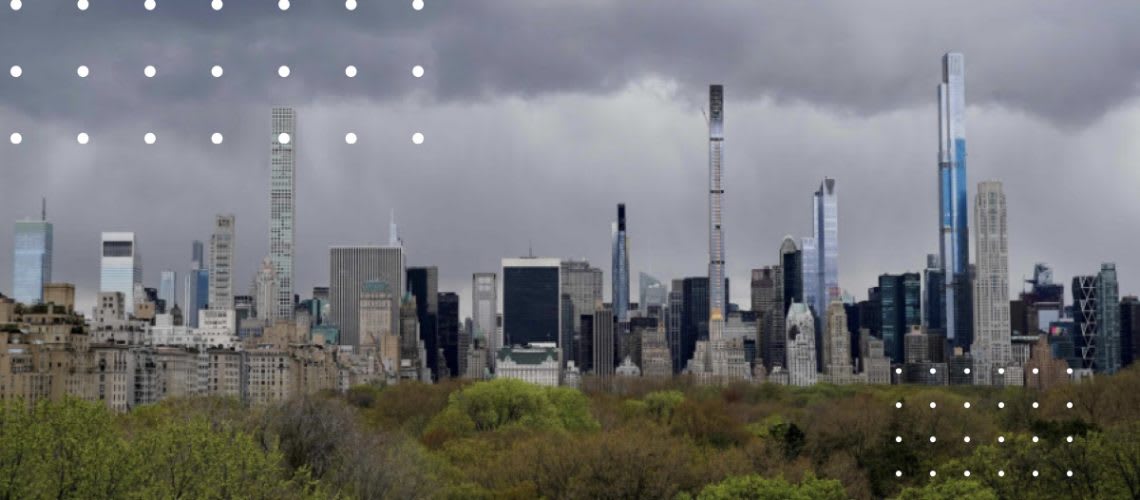 The skyscrapers of New York's so-called Billionaires' Row in Midtown Manhattan have something in common besides eye-watering prices: The city still considers them active construction sites, with a range of safety-related requirements that remain incomplete, sometimes years after occupancy.
All eight of the towers were missing final sign-off from the Department of Buildings on elevators and plumbing; seven did not have final sign-off on fire sprinklers and standpipes; and five were missing approvals from the fire department.
There are at least hundreds of buildings across the city that similarly have not received what is known as a final certificate of occupancy, and the system of temporary certificates that allows buildings to be occupied without these final approvals has been in place for decades.
The surge of supertall towers near or above 1,000 feet tall across the city in the last decade is without precedent, and the buildings, skinnier and more complicated than ever before, are exposing gaps in the city's enforcement strategy that could pose safety risks if left unchecked, according to interviews with engineers, urban planners and former employees of the Department of Buildings.
A building is not necessarily unsafe because it did not complete all of the oversight tasks required by the city, and there is no evidence of danger on the scale of the deadly condo collapse in Surfside, Fla., in June. All of the supertall buildings in New York City have obtained what are known as temporary certificates of occupancy, or T.C.O.s, which the city says it does not issue if there are structural problems.
Andrew Rudansky, a spokesman for the buildings department, said the city's construction and fire-resistance standards are more stringent than national standards. "New York City has some of the strongest, safest building code requirements in the world, and they're updated regularly to keep pace with changes in the industry," he said, citing several changes announced in April.
An earlier New York Times investigation of 432 Park Avenue, a nearly 1,400-foot condo tower with more than 30 incomplete oversight tasks required by the Department of Buildings, revealed multimillion-dollar floods caused by plumbing defects, malfunctioning elevators, and claims by an engineering firm of "actual life safety issues,".
New York has become a magnet for these supertall towers because of a mix of speculative investment and a land-use system that has encouraged increasingly narrow buildings to reach new heights. For decades, as a way to expedite development, the city has allowed developers to close on units and begin move-ins with a T.C.O., a provisional, typically 90-day pass that says at least part of the building is safe to inhabit, but that outstanding requirements remain.
Obtaining a final certificate of occupancy is the end goal, but the city's tallest residential buildings rarely achieve it, according to a Times analysis of building records. Since 2012, among new residential buildings with at least 25 units, 3,586 buildings, or 77 percent, obtained the final certificate. But only 3 of the 25 tallest residential buildings, or 12 percent, did the same.
There are no city-enforced penalties for not completing certification, but buildings without permanent certificates can have difficulty getting new financing or face higher insurance premiums.
Buildings relying on temporary certificates are supposed to be reinspected by the city about every 18 months, or else the pass cannot be renewed, Mr. Rebholz said, but the city does not keep track of when those inspections are due and instead relies on building owners to seek re-inspection.
One reason so few large buildings complete the certification process is because it can get very cumbersome, said Walter Marin, the senior principal at Marin Architects and a building consultant. For final approval, an owner must clear all open building violations and open construction applications, which can include numerous renovation projects by individual tenants. But the process is complicated by the fact that since the 1970s — when the city was in a financial tailspin and budget cuts strained the department — some aspects of inspection in New York have been handled by outside contractors who are hired by the developers, not the buildings department.
We highly recommend that our clients purchasing in super tall buildings engage an inspector to provide an engineering report. We are very careful to do a thorough due diligence of the property and the building prior to signing a contract. We are here to help you navigate the complex purchase process.
Warm regards,
Stacey Froelich