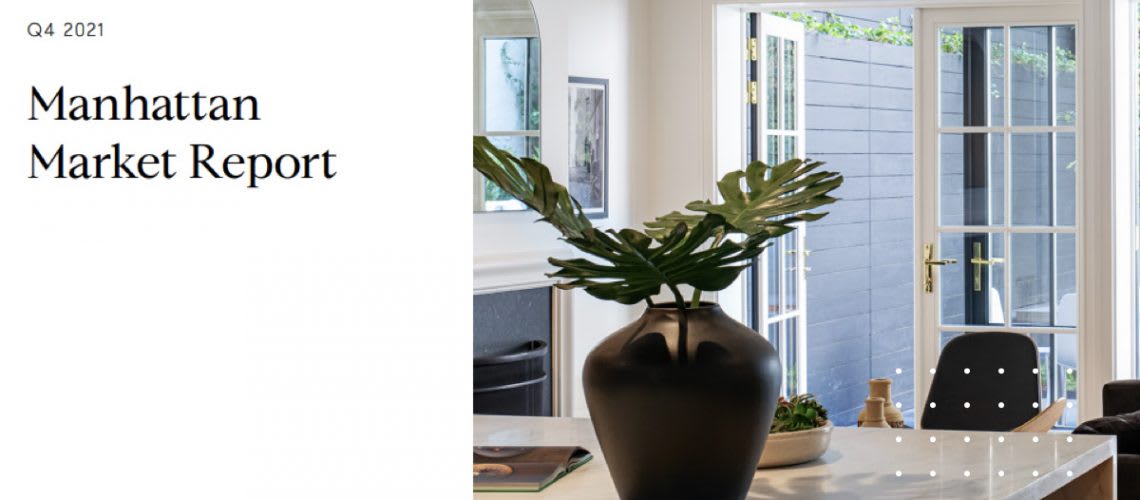 The resurgent Manhattan residential real estate market continued its upward trajectory at record levels in Q4. At nearly $7 billion, condo and coop sales volume was the highest of any Q4 on record. Overall, 3,445 apartments were sold in the quarter, up a staggering 79 percent compared to the previous year. This number was the highest total for a Q4 since 2013. Apartment contracts were also up, increasing 34.5 percent in Q4 year-over-year with large increases in average and median prices.
On the townhouse front, sales increased by a startling 58.6 percent, with the average sales price of $9.23 million, an increase of 6.1 percent compared to Q3.
These high figures point to strong consumer confidence in Manhattan residential real estate and come as no surprise. New York property has traditionally been considered a sound investment, particularly lucrative today with supply chain disruptions, unpredictable markets, and continued health concerns worldwide. These factors, coupled with high vaccination rates in the area, low mortgage rates, and an easing of travel restrictions for foreign nationals, exacerbated the record figures and played a role in escalating prices.
Strong contract activity in Q4, a new administration in the city, and New York's reputation as a desirable place to purchase real estate point to a favorable Q1 in 2022 and beyond. To review the Compass Q4 Market Report click
here
.

sold between $1M and $3M captured 38.6% of sales
The average price for a condo increased 7.2 percent year-over-year
The average price for a co-op was up 6.7 percent on average
The less than $500,000 price bracket saw no significant price change
Luxury properties above $20M were in demand and saw a nearly 233% increase in sales compared to this time last year
The $5M-10M price point saw the largest increase in median and average price, up 4.6% and 8.2%, respectively
Our team is representing some amazing properties and are preparing several to come to market. If you have any questions about buying, selling, or renting in the greatest city in the world, contact us!
Warm regards,
Stacey Froelich