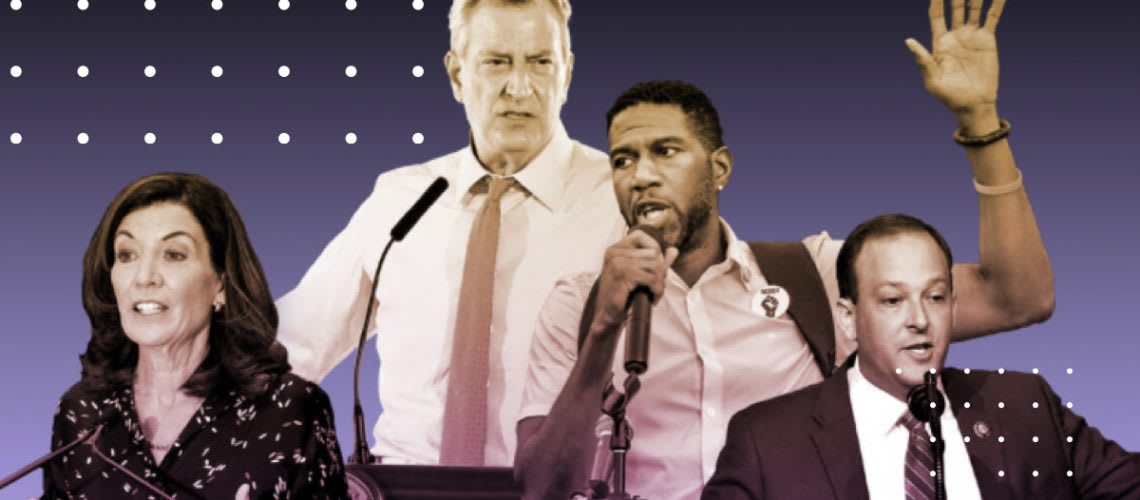 Tenant protections and a key tax break for developers are just two of the real estate issues shaping the early stages of New York's gubernatorial race, establishing whether a growing number of Democratic hopefuls - including, most recently, Long Island Rep. Tom Suozzi - fall to the right or left of incumbent and perceived moderate Kathy Hochul.
Republicans, meanwhile, appear to be uniting behind Long Island Rep. Lee Zeldin, although former Westchester County executive Robert Astorino and Andrew Giuliani, the son of Rudy Giuliani, are also vying for the nomination.
Landlords and tenant advocates will be watching how Hochul handles the state's remaining pandemic eviction protections, the scheduled expiration in June of the tax break formerly known as 421a and rising momentum for a statewide good cause eviction bill.
Gov. Kathy Hochul
After Cuomo resigned, Hochul pledged to fix the state's stalled rent relief program. Three months later, by mid-November, the state had earmarked all of the $2.4 billion in available federal money and requested another $996 million. Hochul, who had served as Cuomo's lieutenant governor since 2015, recently told the New York Times that her party needs to prioritize economic growth and public safety. At a November event hosted by the Association for a Better New York, Hochul emphasized the need for New Yorkers to return to their offices. Still, she will likely need to ensure that she doesn't appear too cozy with real estate interests.
Public Advocate Jumaane Williams
In 2018, Williams came about 7 percentage points, or less than 100,000 votes, shy of beating Kathy Hochul for the Democratic nomination for lieutenant governor. Williams, too, supports good cause eviction and has long been critical of 421a and its successor programs, calling them giveaways to real estate developers. As a Brooklyn Council member, he introduced a measure that would ramp up city audits of the tax break. It was approved in 2017. Williams refused real estate donations when he ran for public advocate.
Mayor Bill de Blasio
During his eight years in office, the mayor has managed to be both scorned by the real estate industry and accused of catering to it. He has not officially declared his candidacy and has not discussed his position on eviction protections, nor the renewal of 421a.
Rep. Lee Zeldin
A Long Island Congressman since 2015, Zeldin has established himself as a steadfast ally of former President Donald Trump. In January, he was one of 147 Republican lawmakers who voted against the certification of the 2020 presidential election. In November, Zeldin referred to good cause eviction as "universal rent control" and said he would never sign such a bill into law. New York has not elected a Republican governor since George Pataki in 2002, so Zeldin will likely face an uphill battle in the general election.
Attorney General Letitia James
James was polling a distant second behind Hochul for the Democratic primary when she dropped out of the race on Dec. 9 to pursue re-election as attorney general. Her exit was likely a welcome development for landlords. James declared her support for good cause eviction. As attorney general, James has launched various investigations into former President Trump and his family's business. She has gone after landlords for abusing the 421a program and cracked down on construction companies where workers alleged they were exploited and sexually harassed.
You can read more about the exciting race
here
. We will be watching this race closely and continue to provide updates. Our goal is to keep you informed of all things real estate-related. I love this time of year. Happy Holidays to you and your family.
Warm regards,
Stacey Froelich